UK Taekwondo: Originally created in Korea during the 1940s and 1950s, Taekwondo is a fast paced combatative sport that's become more and more popular over the last three decades. For individuals who wish to learn a bit of self-defence, build your confidence, develop your mind and body and bolster your self-respect, Taekwondo could be the perfect hobby or fitness activity.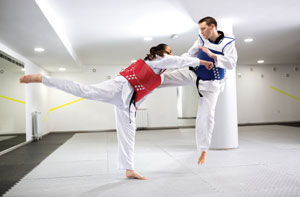 When speaking about Taekwondo, many people in UK consider that this is a pursuit for young children. The truth is though, that people of every age are able to take part in this sport despite its considerable physical demands. Being relatively agile and fit does however help you to enjoy all the intricacies of Taekwondo.
Based mostly around kicking moves and manoeuvres like head-height kicks, jumping/turning kicks and fast kicking techniques, Taekwondo was developed from the techniques of various martial arts, by a group of Seoul martial arts experts in new schools known as "Kwans" in the nineteen forties and fifties. These "Kwans" were given the names Jido Kwan, Changmu Kwan, Chungdo Kwan, Songmu Kwan and Mooduk Kwan.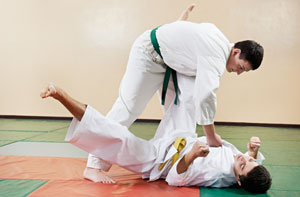 Taekwondo has become very popular in UK and all across the globe, with over 60 million practitioners worldwide. Joining a local UK Taekwondo class or club is a good way to get involved in this sport which has even been a feature of the Olympic Games since the Sydney Games of 2000. While you may not aspire to Olympic competition, there is certainly no reason why you cannot become a maestro of this exhilarating martial art and have a bit of fun along the way.
It is the self-defence aspect of Taekwondo that generally has the most appeal to people in UK. And when you consider the high levels of violence in town and city centres these days, this is hardly surprising. In fact one of the key principles of Taekwondo is learning to defend yourself whilst exercising self-restraint and a respect for others.
There is a fairly good chance that your eagerly mastered Taekwondo skills will never see the light of day in the outside world, but it will most certainly give you peace of mind knowing that they're there should you ever need them.
Your First UK Taekwondo Class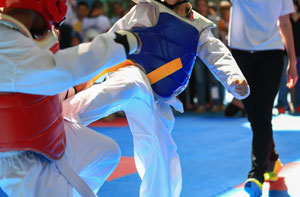 If you've decided to learn Taekwondo and are preparing for your first lesson, you'll be curious about what will happen. This could vary subject to which UK school you go to, but will typically include the following. An initial warm up lasting 15 to 20 minutes, a bit of technical training comprising some kicks, hand attacks, stances and blocking techniques, a look at patterns or forms, a look at sparring including movement, timing and the targeting of attacks, and lastly a warm down to stretch weary muscles and loosen up.
Everyone who's a registered member of a Taekwondo class in UK or any place else in the UK, is also required to join British Taekwondo, which is the governing body of the sport. By checking out the official British Taekwondo website you will be able to read info on events, coaches and tournament referees, first aid, safeguarding and equality, clubs and members, news, establishing a new club, coaching courses, safe practices, and a lot more Taekwondo related facts.
UK Taekwondo classes are not simply for the people of UK but also for enthusiasts from Birmingham, Liverpool, Wales, Cardiff, Belfast, Swansea, England, Glasgow, Scotland, Northern Ireland, Edinburgh, Sheffield, London, Bristol, Greater Manchester and other surrounding locations and postcodes such as HP11 1ET, HP10 0RE, HP11 1GF, HP11 1JE, HP10 8WQ, HP11 1BJ, HP11 1GG, HP11 1EQ, HP11 1AW, HP11 1LA.
Taekwondo Belts
In Tae kwon do there is not really any form of uniformity in regards to belts and ranking. It all hinges on what style you are considering, as there are so many different Taekwondo styles and rules. However, they are typically split into 2 groupings "junior (colour) belts and "senior" (black) belts. The colour/junior ranks consist of white to red, with anything from 8 to 12 grades, whilst the senior/black belts commonly have nine ranks.
In the UK there are a set of ranks in Taekwondo that are called "Kup". The lowest is 10th Kup and the highest is 1st Kup. As is the case with most of the martial arts, the Taekwondo belt order is denoted by a number of colours, so the ranks can be easily identified. These colours are white, yellow, green, blue and red, with transitional belts with stripes in-between, namely - white with a yellow stripe, yellow with a green stripe, green with a blue stripe, blue with a red stripe and red with a black stripe. The White Belt (10th Kup) is what Taekwondo rookies in UK will commence with, they will then proceed through the coloured belts, finally reaching the Red With Black Stripe Belt (1st Kup), which can take approximately 3-4 years.
Taekwondo - The Benefits
There are of course, plenty of benefits to be had from taking part in Taekwondo, and here are just a selection of the ones which might be tempting for you: Help with self-defence by training you to understand occasions where self-defence could be required, and empowering you to manipulate such circumstances in your favour, Toughen up your body and mind via improved physical coordination and mental discipline, Grow in your confidence by inspiring you to succeed and to take control of your life, Enhance concentration and self-esteem by sharpening your mental and physical health, Reduce stress by doing deep breathing exercises, Turbocharge flexibility, stamina and agility by way of strenuous cardiovascular work-outs, Greater discipline by extensively educating your body and mind in the concepts and techniques of Taekwondo.
Beginners Taekwondo UK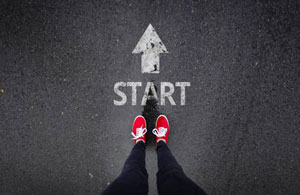 Even the top exponents of Taekwondo in UK had to start as newbies, therefore there's no shame in being a beginner at Tae kwon do, or for that matter any other activity. The objective of a Taekwondo beginner class is to teach just a few basics, raise confidence and build a solid base for the future. Most important of all is that it should be fun, students having a great time will learn quicker and be more committed.
Taekwondo Kicks
Push Kick (Meereo Chagi)
Front Kick (Ap Chagi)
Axe Kick (Naeryeo Chagi)
Roundhouse Kick (Dollyo Chagi)
Crescent Kick (Bandal Chagi)
Back Kick (Dwo Chagi)
Whip or Hook Kick (Huryeo Chagi)
Side Kick (Yeop Chagi)
Benefits Gained From Taekwondo
Reduces anxiety and stress with controlled breathing
Increase your self-esteem by heightening your mental and physical powers
Beef up your confidence by inspiring you to succeed and to seize control of your life
Teach you self-defence by helping you to recognize instances in which self-defence might be required, and enabling you to manipulate these types of situations to your advantage
Increase agility, stamina and flexibility by means of extreme cardiovascular effort
Toughen up your mind and body via increased mental discipline and physical co-ordination
Greater self-discipline by thoroughly training your body and mind in the concepts and techniques of Taekwondo
UK Taekwondo teachers can usually help you with Taekwondo etiquette, Taekwondo equipment, beginners Taekwondo classes, one-to-one Taekwondo classes, women's Taekwondo classes, Taekwondo for kids, Taekwondo kicks, Taekwondo moves, Taekwondo tuition, Taekwondo stances, Taekwondo for the disabled, Taekwondo for older adults, sparring and other martial arts stuff in UK, UK.
Also find: Sheffield Taekwondo, Northern Ireland Taekwondo, Swansea Taekwondo, Glasgow Taekwondo, England Taekwondo, London Taekwondo, Bristol Taekwondo, Birmingham Taekwondo, Greater Manchester Taekwondo, Wales Taekwondo, Belfast Taekwondo, Liverpool Taekwondo, Cardiff Taekwondo, Scotland Taekwondo, Edinburgh Taekwondo and more UK Taekwondo schools.
As well as looking for Taekwondo lessons in UK, UK, you could additionally require aikido classes in UK, tai chi classes in UK, kung fu classes in UK, jiu jitsu classes in UK, karate classes in UK, martial arts classes in UK, cross fit training in UK, judo classes in UK, sambo classes in UK, boxing classes in UK, kendo classes in UK, a personal trainer in UK, kickboxing classes in UK.
UK Family Taekwondo Classes
UK Adult Taekwondo
UK Taekwondo Taster Classes
UK Taekwondo for Kids
UK Taekwondo Clubs
UK Taekwondo Training
UK Taekwondo Tuition
UK Taekwondo Instruction
UK Taekwondo for Self-Defence
UK Taekwondo Competitions
UK Taekwondo for Fitness
UK Beginners Taekwondo
UK Taekwondo Lessons
UK Women's Taekwondo